Cosmetic Dentistry in Concord, CA
Are discolored, yellow, misshapen, or crowded teeth getting in the way of your self-confidence? Cosmetic dentistry services by Clayton Dental Group are designed to correct cosmetic concerns and enhance the look and feel of your smile. With Dr. Haidari as your cosmetic dentist in Concord, CA, you can achieve results you can be proud of!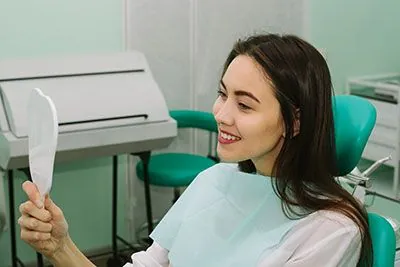 Clayton Dental Group offers cosmetic dentistry services, including smile makeovers, tooth whitening, and dental veneers. We provide the highest quality dental care in a fun, comfortable environment. With our experienced team of experienced professionals and our state-of-the-art facility, we can help you get the confident smile you deserve.
We offer the following cosmetic treatments at our dental office in Concord, CA:
Smile Makeovers
A smile makeover combines restorative and cosmetic dental procedures to completely restore a beautiful, healthy smile! Many treatment options are available during a smile makeover, including teeth whitening, dental implants, veneers, tooth-colored fillings, bonding and contouring, laser gum sculpting, and more. For your unique smile makeover, Dr. Haidari will make personalized treatment recommendations based on your needs and goals.
Teeth Whitening
Teeth whitening is done quickly and painlessly using the latest advances in dentistry, and is inexpensive compared to the cost of professional bleaching trays. Let us know at any appointment if you want to whiten and brighten your smile!
Teeth whitening is a cosmetic dental procedure to remove tooth stains, making teeth look lighter and brighter. Teeth whitening can be performed in our office with our Zoom! whitening system, or at home with take-home trays. In cases of severe dental discoloration, crowns or veneers may a better treatment option, but because of the affordability of whitening treatments, teeth whitening is always a good first step.
Zoom! uses light energy to activate a potent whitening gel that provides fast, noticeable results. Teeth become two to eight shades whiter in just one treatment, and up to 14 shades brighter after two weeks. You won't need anesthesia; the process is so comfortable that patients often fall asleep while being treated. Zoom! is ideal for anyone who wants immediate results, a deeper shade of white than what a take-home kit can achieve, or has experienced tooth sensitivity with other teeth-whitening treatments.
Dr. Haidari will perform an assessment to help you determine if you are an ideal candidate for teeth whitening, including a shade assessment. If you opt for take-home teeth whitening, your personalized trays will be crafted for you right here at our Concord dental office!
Invisalign Clear Braces
Ready to straighten your teeth without the hassle or permanence of metal braces? Dr. Haidari uses a series of clear and removable Invisalign orthodontic aligners to straighten your teeth. Each set is worn for two weeks, then removed to eat, drink, brush, and floss. The aligneres move your teeth gradually throughout the duration of your treatment.
To ensure your treatment progresses as planned, you'll visit Dr. Haidari about once every 6 weeks during the first few months of treatment. Total treatment time averages between 9 – 15 months per patient, meaning you won't have to wait long for your new smile!
Porcelain & Composite Veneers
Porcelain veneers are thin shells of ceramic that bond directly to the front surfaces of the teeth. They are ideal for improving mild to moderate smile imperfections and have become increasingly popular due to their simplicity and versatility. Unlike crowns, dental veneers do not require any preparation of your natural tooth structure so that they can be placed on healthy teeth.
Dental veneers are used to improve the appearance of your smile at Clayton Dental. Veneers are thin, custom-made shells to fit over the front of a tooth, providing you with a beautiful, long-lasting smile. Porcelain or composite material can be used for the veneers.
Patients often seek dental veneers for the following smile imperfections:
Cracked or broken teeth
Stained, discolored, or yellow teeth
Crooked teeth
Gaps between teeth
...and more!
Laser Gingival Recontouring
We can help you improve the appearance of the gums when you smile with minimal discomfort, thanks to laser dentistry. Laser gingival recontouring treats gum lines when patients smile and can promote healthy gums. Dr. Mehran Haidari is an experienced cosmetic dentist who handles these procedures with skill and confidence. Schedule a consultation now to discuss whether laser recontouring is suitable for you!
Dental Implants
Missing one or more teeth due to injury, decay, or gum disease? Dr. Mehran Haidar specializes in permanent tooth restoration using dental implants. Dental implants offer a natural look and feel, and long-lasting results using titanium posts implanted into the jawbone where strong crown restorations can be attached. Dental implants fit securely without dietary restrictions or uncomfortable shifting.
Implant restorations also promote healthy regrowth in the jaw bone, making them a stronger, healthier alternative to tooth replacement with dentures or bridges. We offer the following dental implant systems at our office in Concord, CA:
Single Dental Implants
Hybrid Dental Implants
Implant-Retained Dentures
Dental Bonding
Bonding is an alternative to veneers that can be used to restore teeth that are chipped, cracked, or discolored. In the dental bonding procedure, the tooth is prepared by lightly etching the surface and applying a bonding liquid. Once the liquid sets, a plastic resin is applied and sculpted into the desired shape by the dentist. Once set, the resin is trimmed, smoothed, and polished to a natural appearance.
The bonding procedure can often be completed in a single office visit and can significantly improve the appearance of a damaged tooth.
Dental Inlays & Onlays
Inlays and onlays add strength and stability to teeth that are damaged, but remain otherwise healthy. Typically, two appointments are needed for inlay or onlay placement. At the first appointment, your dentist removes decayed or damaged tooth material and prepares the tooth. An impression of the prepared tooth is taken to create a dental restoration that fits perfectly with your bite and smile. In some cases, temporary sealants are applied, and the permanent inlays or onlays are manufactured by a dental lab before you return for your second appointment. Dr. Haidari will then apply the final sealant before placing a light-cured filling in the cavity.
Traditional inlays and onlays are bonded directly onto the tooth using specialized high-strength resins, increasing its strength by up to 75 percent; as a result, they can last decades. When damage to the tooth is not extensive enough to require an entire crown, an onlay may provide an excellent alternative.
Crown Lengthening
A crown lengthening procedure is an advanced treatment that can correct a "gummy smile," improve the health of gum tissue, or prepare the mouth for further treatment. Our dental team will reshape and recontour gum tissue and bone around the tooth in question to create a new gum–tooth relationship.
Crown lengthening is a procedure that increases the length of a tooth. It requires a small incision around the tissue, separating the gums from their teeth. This procedure can be performed under local anesthetic, taking about an hour to complete. It will require reshaping of surrounding teeth for a more consistent look.
Following the procedure, your teeth will look noticeably longer immediately after surgery because the gums have been repositioned. In one or two weeks, you'll visit our local Concord dentistry to remove sutures and evaluate your healing. The surgical site should completely heal in just two to three months following treatment.
Learn More About Cosmetic Dentistry in Concord, CA
Your best, brightest smile is possible with Clayton Dental Group! Dr. Haidari and his skilled team utilize a variety of advanced techniques to help our patients reach their aesthetic goals. Call today to schedule your cosmetic dentistry consultation!