Emergency Dentist Appointments in Concord, CA
$49 Emergency Exam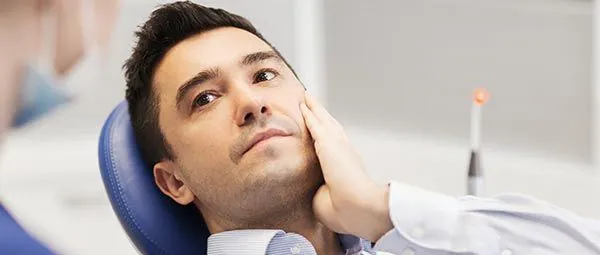 Emergency dentist appointments can be fast, comfortable and affordable! When you experience a dental emergency like tooth pain, a broken tooth, a dental injury, or a damaged restoration, call to schedule your same-day or next-day emergency exam for just $49.
Clayton Dental Group is just a phone call away when you're experiencing a dental emergency in Concord, CA. We proudly accept all patients for emergency dentist appointments and will do our best to schedule you for same-day urgent care. Our emergency dentist strives to provide exceptional dental care to patients who need urgent treatment for oral injuries, tooth pain, broken restorations, and more. With experience in treating a wide range of dental concerns, Dr. Mehran Haidari will help get your smile back!
We provide urgent dental care to treat the following conditions at our Concord dental office:
Tooth Pain
If a toothache has lasted longer than 24 hours, our emergency treatment is designed to quickly and effectively diagnose your dental concerns. During your signature emergency examination, Dr. Haidari will use advanced imaging technology to take a close look at your teeth and the surrounding structures within the mouth. He'll get to the root of the problem to relieve your pain as soon as possible!
Knocked-Out or Broken Teeth
While a cracked tooth is usually not as serious as a broken one, both conditions can lead to decay and oral infection. Broken teeth need to be addressed right away to avoid excess food and bacteria to become trapped within the mouth. Chewing on broken or cracked teeth can further irritate the pulp within the tooth, causing pain, damage, and even infection.
Our team will also provide treatment for the following urgent tooth conditions:
Cracked Teeth
Craze lines
Fractured Cusp
Split Teeth
Vertical Root Fracture
Dislodged Teeth
When teeth are dislodged from their roots due to trauma, it is essential to seek immediate medical attention from your emergency dentist. The more time taken before treatment begins, the more difficult it becomes to save your tooth.
If you experience an oral injury that results in dislodged teeth, your endodontist or dentist can help reposition and stabilize your tooth with root canal therapy. Our team will use a calcium hydroxide medication be placed inside the tooth to help softens the pulp and make it easier for your dentist to clean the infected pulp tissue easier for your dentist. Eventually, a permanent root canal filling will be implanted.
Broken Dental Fillings & Crowns
Clayton Dental Group is dedicated to providing high-quality restorations, crafted from durable materials engineered for long-term wear. If you need to repair or replace a dental restoration that has broken or become loose, we can help! Contact us right away to schedule your urgent dental visit.
Oral Injuries in Children
Clayton Dental Group can help save damaged immature or permanent teeth in children. Our dentist prioritizes gentle treatment for every patient, especially our youngest. Emergency dental procedures for young smiles may include:
Apexogenesis, the process by which a tooth assesses once it has been saved from infection. This procedure encourages the root to continue development as the pulp is healed. Soft tissue is covered with medication to encourage growth. The tip of the heart (apex) will continue to close as the child ages, and in turn, the walls of the root canal will thicken. If the pulp is allowed to heal, no additional treatment will be necessary.
Apexification, a treatment that removes the unhealthy pulp and places medications into the root to help form a barrier at the tip of the tooth. The hardened tissue provides a barrier for root canal filling, making it susceptible to fractures. Our dentist will promptly work to strengthen and restore your child's smile following the removal of pump from the teeth.
Dental Abscesses
Dental abscesses can be painful, especially when the underlying infection causes swelling and accumulation of bacteria and food particles beneath the gums. Our dentist can administer gentle root canal therapy to prevent infection and relieve an abscessed tooth as soon as possible.
Your Home for Emergency Dentist Services In Concord, CA
Clayton Dental Group provides gentle, effective urgent dentistry to patients in Concord, CA and beyond. Call today to schedule your same-day or next-day emergency appointment!