Invisalign® Clear Braces in Concord, CA
FREE Orthodontic Consult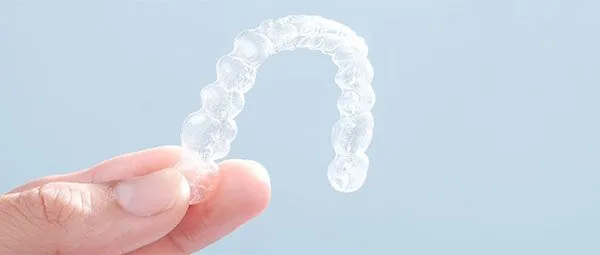 Considering straightening your smile with clear aligners? Our in-house Invisalign preferred provider offers complimentary orthodontic consultations to determine if invisible braces are right for you!
Clayton Dental Group's in-house Invisalign® dentist seamlessly straightens smiles with almost-invisible clear aligners! We proudly offer top Invisalign services near Concord, CA, and beyond, with orthodontic care delivered by Dr. Haidari, our highly trained Invisalign preferred provider. When you visit us for clear aligner orthodontics, you'll be treated by an experienced orthodontic professional who is experienced in delivering ultra-customized treatment.
The team at Clayton Dental Group uses top technologies to make your Invisalign treatment as comfortable as possible, starting with your initial consultation.
We use advanced imaging tools to digitally scan teeth into 3D models, eliminating the need for sticky, uncomfortable traditional impressions. Your custom orthodontic treatment plan will be built upon ultra-effective technology!
Invisalign® vs. Traditional Braces
Invisalign® aligners are virtually invisible, removable, and comfortable. You can eat whatever you like and brush and floss as usual without any interference from uncomfortable metal wires or brackets that can contribute to tooth decay and gum irritation. The convenience of Invisalign® appeals to people in all stages of life!
How Does Invisalign® Work?
The Invisalign® system uses a clear, removable, and comfortable orthodontic appliances that straighten teeth without using traditional metal brackets and wires. Patients of all ages with mild to moderate smile misalignment can be ideal candidates for Invisalign®. Its gentle technique creates gradual change throughout the duration of your treatment, resulting in a straighter, healthier smile!
Our team will start by taking x-rays and impressions of your teeth. Then, we'll create a 3-dimensional image to map out the movements needed to shift your smile into proper alignment. Your clear aligners will then be created specifically for you, designed to be worn each day as they shift your teeth into their designed position. Invisalign aligners are smooth, comfortable to wear, and you can remove them to clean your teeth, eat, and drink as normal.
Each pair is specially customized to move your teeth in a more aligned position as your treatment progresses. Most Invisalign patients will return to our office throughout their treatment, to allow our dentist can track their progress and make any necessary adjustments.
If you have any of the following orthodontic concerns, Invisalign could be an excellent solution for you:
Crooked Teeth
Overbites
Underbites
Crossbites
Gaps Between Teeth
Open Bites
Crowded Teeth
Misshapen Teeth
Invisalign Teen
Invisalign® Teen is a discreet, comfortable alternative to traditional braces. Teenage patients don't have to worry about sporting metal in their mouths or having their clothing rub against the wires and brackets of conventional braces. Instead, the clear aligners allow them to enjoy eating what they enjoy, keeping daily care simple without hot or cold food restrictions.
Clayton Dental Group is proud to offer Invisalign® Teen, the first line of removable aligners created specifically for teenage patients. By aligning teeth in small, incremental steps, Invisalign® can help teens straighten their smile more comfortably and discreetly compared to traditional metal braces.
Your Consultation with Our Invisalign Dentist
When you visit us at Clayton Dental Group, our Invisalign dentist will take time to evaluate your smile and determine if clear aligners are right for you. He will use digital x-rays and imaging technologies to assess your teeth, jaw, and bite.
If you decide Invisalign treatment is right for you, Dr. Haidari will take gentle impressions of your teeth and develop a treatment plan with clear instructions on how long you should wear each aligner.
Schedule Your Invisalign Clear Braces Consultation
Are you ready to finally have the straight, beautiful smile you deserve? If you're nervous about metal braces and looking for a more lifestyle-friendly solution, Invisalign® clear aligners could be an ideal solution. Call Clayton Dental Group today to schedule your Invisalign consultation with Dr. Haidari!